2013....
It began on Sunday with a long drive to Ottery St Mary. Lunch for some at the Tumbling Weir Hotel, before checking in and then driving up to St Michael the Archangel in West Hill for our evening concert. Our sponsor for the evening was an old friend Mr Ivor Headey, a committee member of the Royal British Legion Club and stalwart member of St Michael's and who was in charge of raising money for the new roof at the RBL Club so after a quick set up and warm: up a beer! at the Club of course. Wonderful facilities, a bar, lounge, pool table, dart board and skittle alley to boot, but time was against us so, in the pouring rain, we walked back to St Michael's to find a church packed in anticipation of some SongCycle entertainment.
The audience were instructed on how to sing psalms, and given renderings of a few Beatles numbers as well as Ill est Bel et Bon and Sleepy Time Bach. Interval refreshments of a very high standard were served before we took to the stage again with some more Beatles, and Bach intermingled with other songs from our repertoire, including Postman Pat and Noddy for the younger viewers. Peanuts concluded the second half before some words of heart felt thanks from our sponsor and a rousing encore with party poppers and cannon shots, after which it was back to the Club for well earned pints of Otter Bitter and a game of darts before retiring to the Tumbling Weir for the night.
<![if !vml]>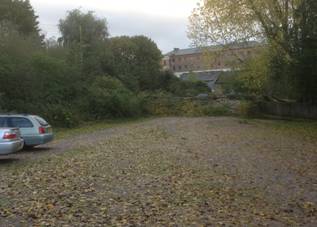 <![endif]>Having been warned not to park near the river or under the trees as the predicted storm was indeed headed towards the West Country in the early hours; we moved our cars out of the way. It was just as well as you can see it did and we awoke on Monday morning to find our exit from the hotel car park blocked by a fallen tree but a local artisan with chain saw set to task while Nick and Richard hauled the logs out of the way.
We were only a little late leaving Ottery but still plenty of time for a hearty breakfast before our drive to Worcester.
Upon arrival at the Cathedral we were warmly welcomed by James the Head Verger, who showed us the way to the Song School which was to be our home for rehearsals for the next three days. Cars unloaded of music and robes we checked in to Ye Olde Talbot hotel opposite and quenched our thirsts with pints of real ale.
<![if !vml]>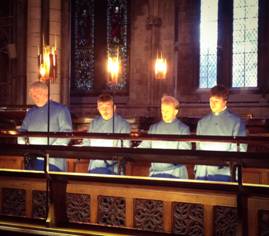 <![endif]>Well it was about time we actually did some rehearsing, so back to the Song School and a visit from our Precentor for the week Reverend Canon Dr Georgina Byrnea. A very nice lady with an excellent singing voice who quickly got to grips with the Bramma responses and proceeded to tell us all about the local Inns and Ale houses. With the music for our first Evensong under our belts we robed and made our way the choir, for a quick run through and finding a very pleasing acoustic. Upon repairing to the Song School a lady appeared to make us tea. Tea we said! we normally have to go to the coffee shop and pay for it we said. Oh! not hear she replied, we provide tea, for all our visiting choirs. Teas quaffed and biscuits devoured we donned our surplices and processed through the cloisters ready for the service.
Who's that sitting behind us? none other than Dr Peter Nardone, the Master of the Choristers. This had better be good we thought. Well, it was, and after some kind words from Georgina we retired to the bar at the hotel, readying ourselves for dinner. After one or two excellent beers and some good food and wine (another one of SongCycle's favourite pastimes) we were joined by Peter Nardone, and we discussed at great length the whys and wherefores of church musicians and the Royal School of Church Music.
<![if !vml]>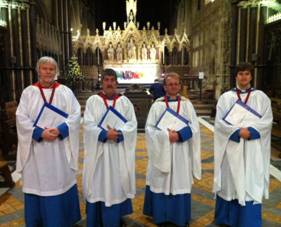 <![endif]>Following a good night's sleep and another hearty breakfast we commenced rehearsals again but not before Nick had done some organ practice. We sang through (with just a short break for mid morning coffee, kindly donated by the visiting choir tea cupboard) until lunch time, when Amanda arrived on the train. The afternoon's rehearsals were interrupted briefly by the arrival of Jonny & Sophie, so we continued with rehearsals and another visit from Georgina. Jonny soon got himself into the swing of things and set up microphones and recording equipment in the Cathedral ready for Evensong No 2. That was good too, and that's not just SongCycle's opinion. Yes we drank beer again before dinner and some very good wine during it too and retired somewhat weary after a full days singing.
Wednesday saw the usual start to the day, with breakfast, rehearsals, coffee, rehearsals, lunch, rehearsals, tea, Evensong No 3, beer, more beer, food, more food, wine and even more beer but whilst all this was going on Jonny was recording us and Sophie was using camera, video from some very precarious positions on tables and chairs with a promise to make a short podcast of our visit. The Chapter House has to deserve a special mention. Completely round and with only one central stone column, its acoustic is as good if not better than the Lady Chapel at Ely so we made hay whilst the sun shone and recorded a few motets in there too.
<![if !vml]>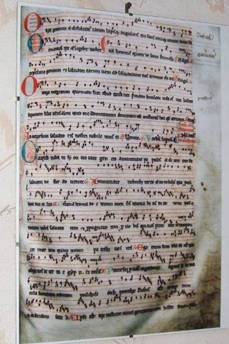 <![endif]>Following Evensong James the Head Verger and Reverend Canon Dr Georgina Byrnea thanked us for our music and presented us with a thank you note and a framed picture of a reproduction of folio 11r of the Worcester Antiphoner of c. 1230. It shows the last part of the Advent Antiphons and is also part of the modern-day carol O come, O come Emmanuel which will be proudly displayed in our own choir vestry. This with many other national treasures is housed in the Cathedral's Library whose collection comprises 298 medieval manuscripts, which range mainly from the tenth to the fifteenth centuries. There are also 5500 post medieval books collected by the post medieval Dean and Chapter and the Bishops of Worcester, and 19,000 archive documents which belong to the Dean and Chapter and stretch from the middle ages to the present day. There is also a music collection, which contains works by many famous composers including Sir Edward Elgar and Thomas Tomkins, and also archives. The cathedral library also looks after the parish libraries of St. Nicholas (Worcester), Bromsgrove, Feckenham, and Great Malvern churches.
This was a first for us, we have never been presented with anything, not that we ask for anything except good company, great cathedrals and a place to sing, not forgetting of course the odd beer or two. It was a great week and our thanks go to all of the team, who made it so enjoyable, that includes our co-habitants: Lesley Lynn, Wendy Morley, Amanda Rayner, Emily Hart, Jonny & Sophie Baker and of course Jim Baker without whose generous donations to the causes we would not be so lucky.
Where to next year? See our web site for details. www.songcycle.co.uk