2013....
The 14th September saw us tackle our 18th Friends of Essex Churches sponsored bike ride together when we cycled from Weeley through, Clacton, Holland, Kirby-le-Soken, Walton-on-the-Naze, Frinton, Thorpe-le-Soken and back to Weeley.
After the torrential rain on Friday and a forecast for a wet Saturday we awoke to a very soggy morning to load bicycles in or on cars and vans to make it to Weeley to start our ride from The Brethrens Meeting Room1 at 9am.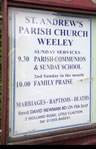 Sam Adams, having been hit by a car whilst cycling to work a week earlier, spent most of Friday evening re-building his bicycle only to be the first one to get a puncture. Nay! a blow out as soon ashe saddled up in Weeley, but undeterred and with a borrowed inner tube from Emma Sharp they joined the rest of us, Nick and Amanda, Trevor Sharp, James Mac, James and Debbie at St Andrews,2 only to find there was no one there to open up, but do they really arrange Deaths! (see photo) Passing two other churches3&4 on the way we arrived at St James5 Little Clacton to be greeted by the church members with a key so they were treated to O Sing Joyfully - Adrian Batten and it wasn't raining!
Brian (the limp) Lynn, for those of you remember " Bradwell and Back" in 2000 was indeed limping again and unable to ride, so hospital car he was and in charge of the music with Lesley getting us signed in and making a note of what we sung and where. No sooner had we reached St Marks6 which wasn't open Debbie got a puncture so James Mac stepped in with the puncture repair kit and they caught us up at St John's7 Great Clacton with SongCycle in full flow singing A New Commandment - Thomas Tallis.
Great Clacton Methodist8 church was holding a prayer day and Sam managed to blag the last bacon sandwich whilst they turned off the piped music before being delighted with You are the Centre - Margaret Rizza. Passing 5 other churches9-13 which were closed The Baptists (church No 14) were given Brian's arrangement of Martin Howe's Day by Day and we were in full flow by the time we passed Trinity Methodists15 and reached the large and impressive church of St James the great16 Clacton who deserved something big and loud, O Sacrum Convivium - T. L. de Victoria. The Elim Penticostal,17 the Christian Church of God18 and the Friends Meeting house19 all got a wave, their doors being closed. The Catholic church20 in Holland were in the middle of Benediction, however Christ Church URC21 had refreshments and an audience, so they received two motets, May the Lord Bless you - Margaret Rizza and Cantati Domino - Pitoni for their troubles. I don't know why Nick bought a pint dimple jug from the bric-a-brac stall in the hall, we were still miles from the Pub lunch stop, and anyway it still wasn't raining!
St Paul's22 in Church Road was given a rendition of O King all Glorious - Healy Willan and King's Avenue Methodist church23 received O come ye servants of the Lord - Christopher Tye. After passing St Bartholomew's24 and the Baptist25 church in Frinton Road, we gave All Souls RC26 in Church Ave verum corpus by Francesco Milani (a new arrangement for 2013) and received a collection of some £55 for our troubles. All Saints27 Great Holland received Holy is the true light - William Harris, before we passed Great Holland's Methodist church28 and Kirby-le-Soken's Evangelical church29 before arriving at the Parish church of St Michael30 and singing He that hath my commandments - William Mundy.
Lunch at last, as by this time it was 2pm. The Red Lion in Kirby was like an oasis in the desert where Jonny and Sophie were waiting, bicycles ready and helmets on. William Low made a surprise visit, camera in hand, so after 8 ham egg and chips, 2 lasagnes, 2 burgers and some sausages, and copious pints of beer, we posed for a photo shoot. And it still wasn't raining!
11 of us on bicycles and two in the hospital car went onwards and upwards (well not too much upwards!) Homelands free church31 got a wave but All Saints32 Walton and an old member of St Thomas' congregation greeted us with tea and biscuits to the sound of God is gone up - Adrian Batten. The Pentecostal church33 a closed Methodist34, Emmanuel35 in Station Street and St George36 all got a cursory wave as did the grey sea and wind farm, before we descended upon Walton on the Naze Baptist church.37 There, an audience of some considerable number awaited, (the Baptists had put up posters advertising our visit) occupied with cream teas, offers of which we politely declined of course. After all we were all in training! The magnificent audience were treated with View me Lord - Richard Lloyd and Let us now Laud - William Mundy before we headed back towards Frinton, passing the Methodist church38 and arriving at St Mary's39 (Old Church) where we sang Hear the voice and prayer by Thomas Tallis a fitting composer for this wonderful old building. The Frinton Free church40 was closed (we had been warned) but the Sacred Heart Catholic church41 received Schubert's Holy, Holy, Holy for being open. The Methodist church42 and the new St Mary's43 were closed and we couldn't find the Christian Science Society. It was then that disaster struck for Sophie! A flat tyre and a shredded inner tube, spares of which we had run out of, meant that the hospital car had to be summoned back from Thorpe-le-Soken to recover cycle and rider and return them to their starting point in Kirby. Thanks due again to James Mac for racing onwards to catch up with Brian and Lesley, who couldn't be raised on their mobiles.
The Methodist churches in Kirby Cross44 and Thorpe45 are now houses so they got a wave and the majority of us made it to St Michaels46 Thorpe le soken, who at 5 past 6 were still open, so we entertained the vicar with God is a Spirit - Simon Lindley before waving at our last church The Baptists47 across the road. The final 2 miles back to Weeley felt like the longest two miles I have ever cycled. Down hill, up hill, down hill and up hill until eventually we made it back to our starting point some 9 and a half hours after setting off that morning.
An eventful day. Some trials and tribulations, but we didn't get wet, despite most of us taking a change of clothing and it would appear from the responses we received on the way and afterwards that we made a lot of people happy. As for me, well, the bike is back in the shed for another year. I really must do some training, it might not hurt so much if I did. Well no pain no gain so they say!
So for the record it was 36 miles, 47 churches and 18 motets and at the last count a total of £2,400 OTA sponsorship.
Thank you for those who did. See you next year! See our web site for details. www.songcycle.co.uk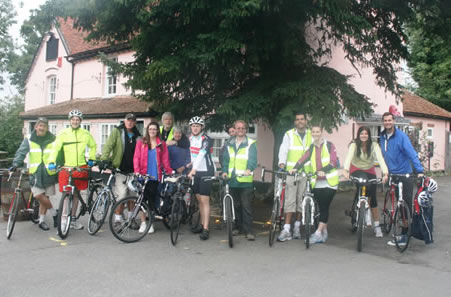 The Riders (from L to R)
Richard Baker
Sam Adams
Trevor Sharp
Emma Sharp
Brian & Lesley Lynn
James Macallan
Amanda & Nick Rayner
James Baker
Debbie Garwood
Sophie & Jonny Baker